A Reality
Jeanette Mundt
"A Reality"
8 Novembre – 29 Novembre 2023
TANK Shanghai, Shanghai, China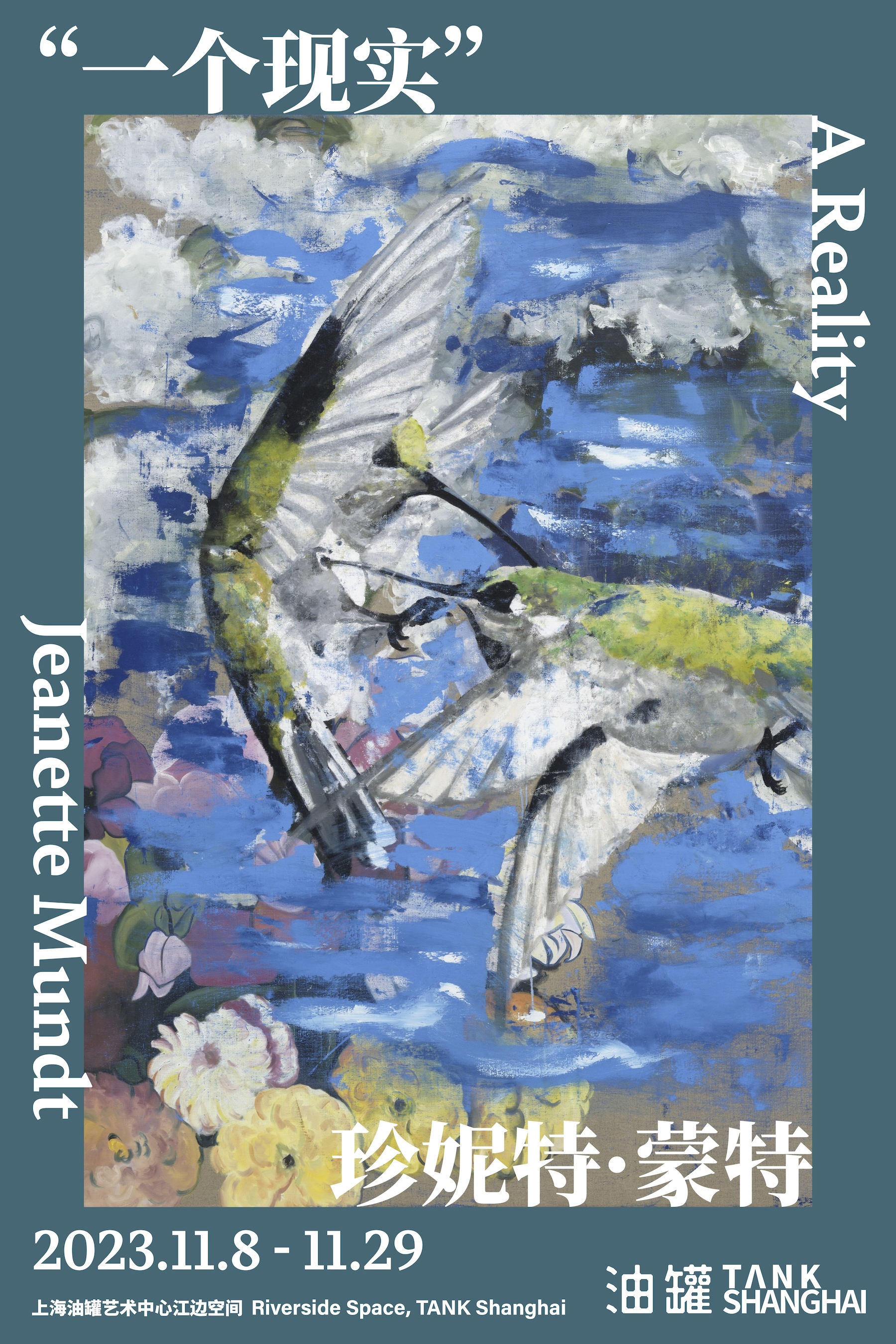 TANK Shanghai is pleased to present "A Reality," Jeanette Mundt's first solo exhibition in China. Whether painting women, flowers, selfies, or birds, Jeanette Mundt's forms seem to stutter, as if collapsing different temporalities and formal approaches into the space of one image. In Mundt's exhibition at TANK Shanghai, she works in recursive loops, repeatedly returning to certain motifs across a number of different works to conceptually repurpose, reposition, and reorient them.
The history of painting, for Mundt, serves as a vast repository of both inspiration and irritation. Her works often replicate her own body, positioning it in relation to painterly citations from medieval illuminated manuscripts, Odilon Redon, Edward Hopper, Henri de Toulouse-Lautrec, Francis Bacon, and Hyman Bloom. These different references don't coalesce in the manner of a frictionless pastiche, but rather with the tenacity and incisiveness of what scholar Sara Ahmed calls a sweaty concept—"one that comes out of a description of a body that is not at home in the world." Mundt's dogged emphasis on reworking and resituating the figure in her paintings speaks to Ahmed's notion that a sweaty concept is a form of intellectual work that is "worldly, but it is also a reorientation to a world, a way of turning things around."
In a series entitled "I Will Destroy You," which depicts hummingbirds manically circling bouquets of flowers and fighting, Mundt literally turns things around. Earlier paintings in the series were painted in a horizontal format and presented vertically. At TANK Shanghai, Mundt switches the orientation once again, painting and exhibiting the works horizontally for the first time. This new perspective on the image amplifies and elongates the lush flowerscape and the birds' frantic movement, which appear as green smudges with varying levels of discernibility.
The series "Right and Not Accurate" reworks two paintings by the American realist painter Edward Hopper: Morning Sun (1952) and Rooms by the Sea (1951). In one painting, a ghostly outline of Mundt assuming a posture borrowed from a Toulouse-Lautrec painting appears as a spectral presence atop a field of blue. This washy swathe of paint indicates the space where a bed was situated in Hopper's original, atop of which sat his wife Jo Hopper, a painter who was tremendously influential on his work yet whose own career was often overshadowed by her husband. In another work, iterations of Mundt's body poised on all fours occupy one of Hopper's empty spaces. The multiplication of the figure indicates a kind of battle: between subject and object, between gendered codes of looking and being looked at, between Mundt's body and Hopper's room.
Another recurring figure in "A Reality" is a semi-nude woman who pulls at her own abdomen. Derived from a selfie, Mundt's gesture in these paintings seems to evoke the sensation of turning inwards into a space of solitude and reflection. "Excessively Emotional and Lusty" depicts Mundt in this posture girded by the kinds of lines Francis Bacon used to create room-like spaces in his works. She uses the pictorial construction of space and flowers—which she has described in the past as taking her into a "trance like space" where she can "just let go"—as motifs to work through the disciplining of women's bodies and social roles, which, as the feminist scholar Silvia Federici writes, were considered "emotionally excessive and lusty, unable to govern themselves."
Notions of looking and voyeurism are addressed spatially and architecturally in "Good For Me." In this series, swooping lines create a kind of peephole effect that reveals Mundt in two different poses: adopting the posture of Toulouse-Lautrec's model and tugging at her belly. This gesture, which appears in other paintings in the exhibition, is derived from medieval depictions of Jesus, in which a slit-like wound functions as a stand-in for Christ. Fascinated by this graphic simulation of the body in illuminated manuscripts, Mundt began to take photographs of herself posing as if she was pulling open a similar wound on her own abdomen. Her painterly depictions of this enigmatic gesture elicit numerous questions. Is the woman in pain? Has she lost touch with herself? Does she feel strange in her own skin?
By conflating art-historical images with selfies, Mundt poses questions about power and the gendered gaze that unfold in the ambiguous space between how we consume images in everyday life and art. One could certainly consider Mundt's painterly practice solipsistic, as consumed as it is with the replication and manipulation of her own body. Yet in fact, Mundt is touching everything: diverse time periods, different media, art historical references, religious iconography, popular culture, digital images. And she also touches things that don't want to be touched, filling them up with her own body.
ABOUT THE ARTIST
Jeanette Mundt (b. 1982, United States) lives and works in New York. She has exhibited in solo and group exhibitions internationally at venues including the New Museum, New York; G2 Kunsthalle, Leipzig; Westfälischer Kunstverein, Münster; Musée d'art Contemporain, Bordeaux; David Zwirner, New York; Company, New York; Overduin and Co., Los Angeles; Gavin Brown's enterprise, New York; Bridget Donahue, New York. Her work has been included in the 2019 Whitney Biennial, as well as the group exhibitions "The Rest", Lisson Gallery; "The Vitalist Economy of Painting" curated by Isabelle Graw at Galerie Neu, Berlin; "Painting: Now and Forever, Part III", Matthew Marks and Greene Naftali, New York; "Sputterances", Metro Pictures, New York.