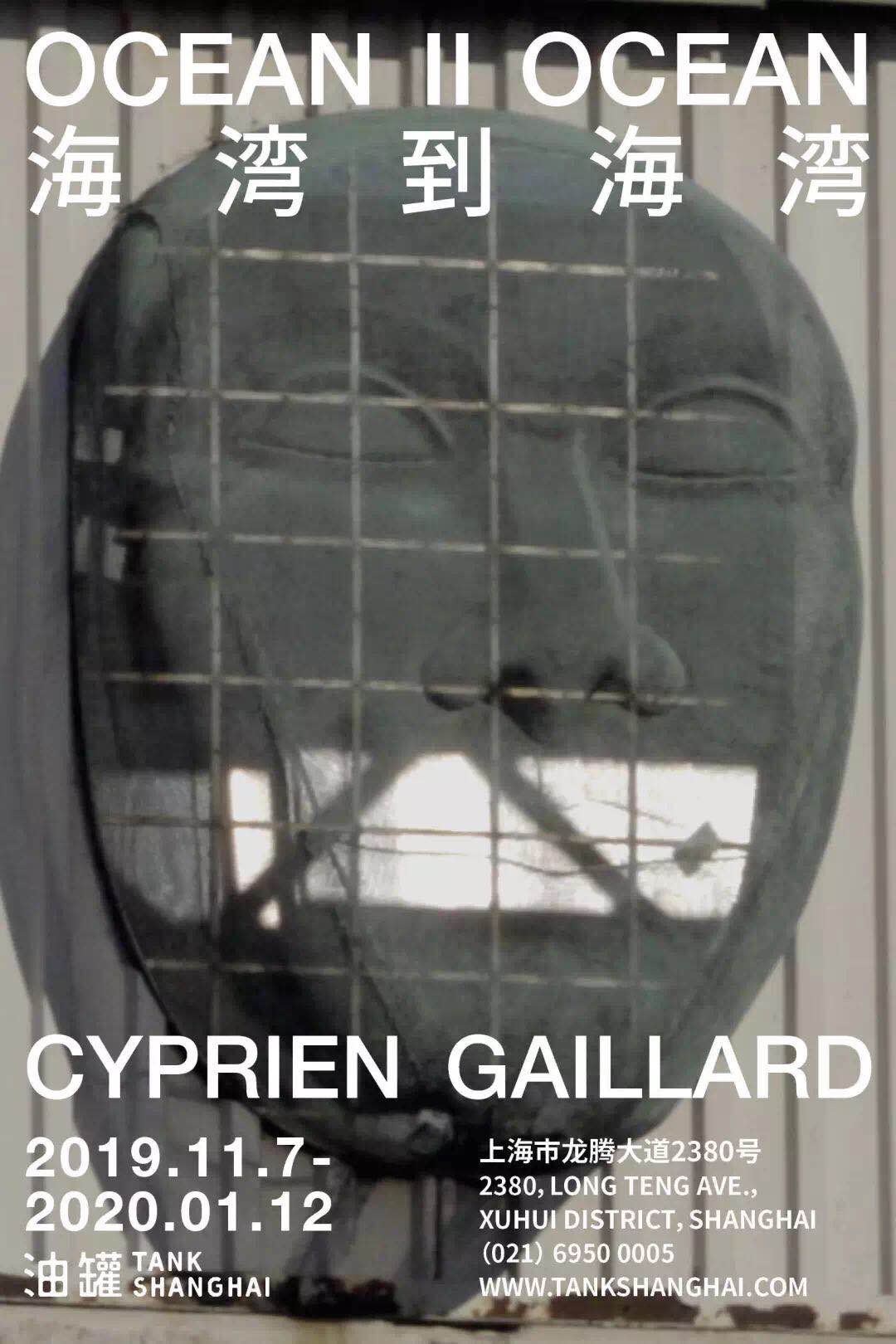 The work of Cyprien Gaillard, whose diverse practice encompasses film, sculpture, collage, photography and other media, charts the entwined movements of nature, civilization and cultural symbols across land and time. Relics of ancient eras, including fossils, stones and ruins, appear in and among urban zones and deserted landscapes, often set within new contexts that collapse geological and temporal spheres and bring the past into dialogue with the present. Time, in Gaillard's work, is anything but linear; rather it is cyclical, multiple and impossible to pin down amid an ever-repeating cycle of evolution, decay, and reconstruction.
The exhibition 'Ocean II Ocean' at TANK Shanghai brings together several of the artist's recent works within a dynamic space whose history—like many of the subjects encountered in Gaillard's imagery—is shifting and multilayered. The eponymous film, Ocean II Ocean (2019), which premiered earlier this year at the 58th Venice Biennale is projected at a monumental scale along the structure's curved interior walls; facing the film is another work from Gaillard's Venice presentation, the holographic sculpture L'Ange du Foyer (Vierte Fassung) (2019), as well as a grouping of the artist's massive excavator sculptures. The unique architecture of the TANK Shanghai, a network of oil tankards on the former grounds of the Shanghai airport, supplying fuel for its planes, provides a powerful setting for, and link between, the three bodies of work.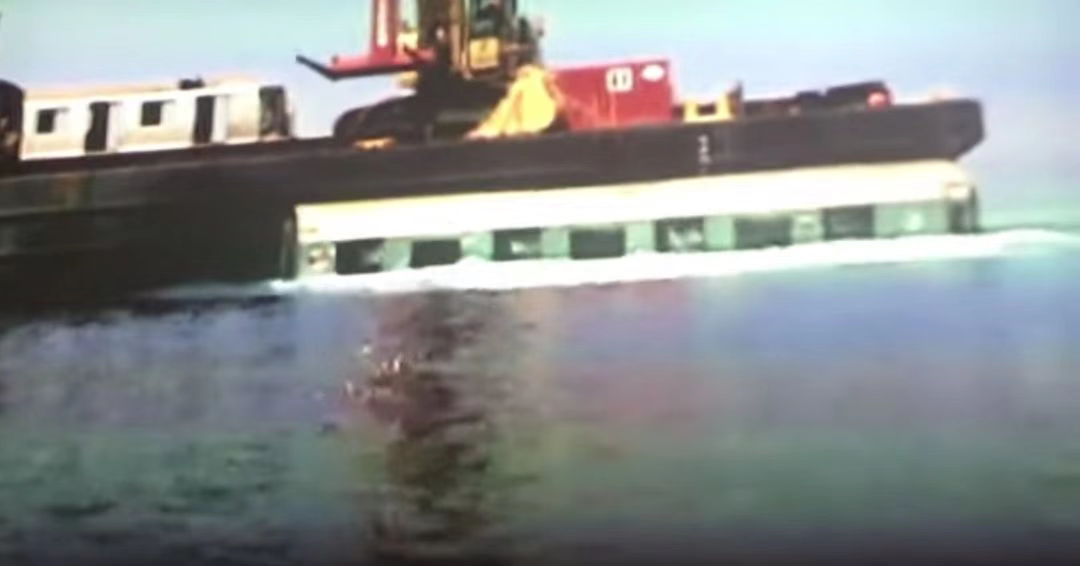 Cyprien Gaillard
Ocean II Ocean, 2019
HD color video with sound, 10:56 min Various dimensions
Photo: SPRÜTH MAGERS
As with much of Gaillard's work, his newest film Ocean II Ocean connects disparate, evocative references into a concerto of images, sound, and movement. Sequences that the artist filmed in aging metro stations in the former Soviet Union are interspersed with found footage of New York MTA subway cars being dumped into the ocean, destined to become substrate for future reefs. Views of fossilized life embedded into the subterranean marble walls and floors mingle with those of the tumbling subway cars. Gaillard ruminates on the different realities at work just below the surface—of the ocean, and of the mind—and considers time both on a human-scale (the decay of manmade infrastructure) and on a much broader, geological one, echoing artists such as Robert Smithson and their exploration of entropy and decay. The film's pulsating, carnivalesque soundtrack is constructed from samples of compositions played on steel drums. Through the music and its instrument, developed over a century ago in Trinidad and Tobago using discarded oil barrels, Gaillard's interest in deep time becomes apparent, as do the conceptual linkages between the films sound component (former oil barrels) and the previous life of TANK Shanghai as massive kerosene containers.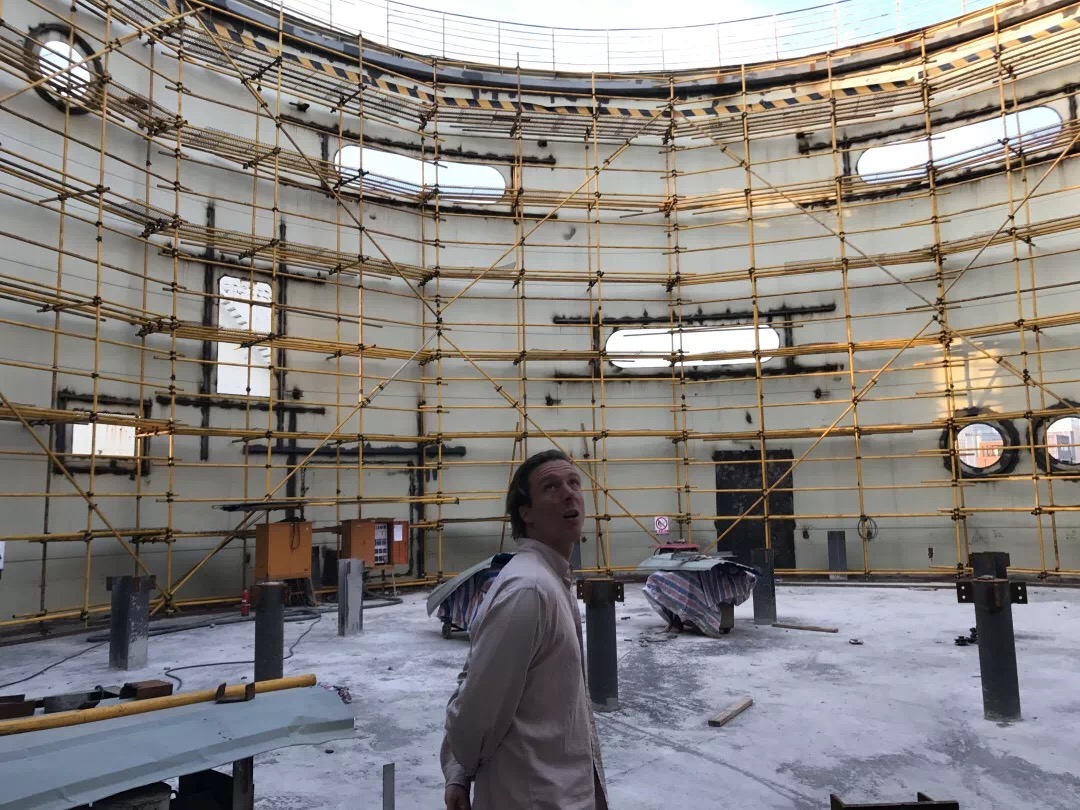 Cyprien Gaillard at Tank No.3
"Ocean II Ocean" under installation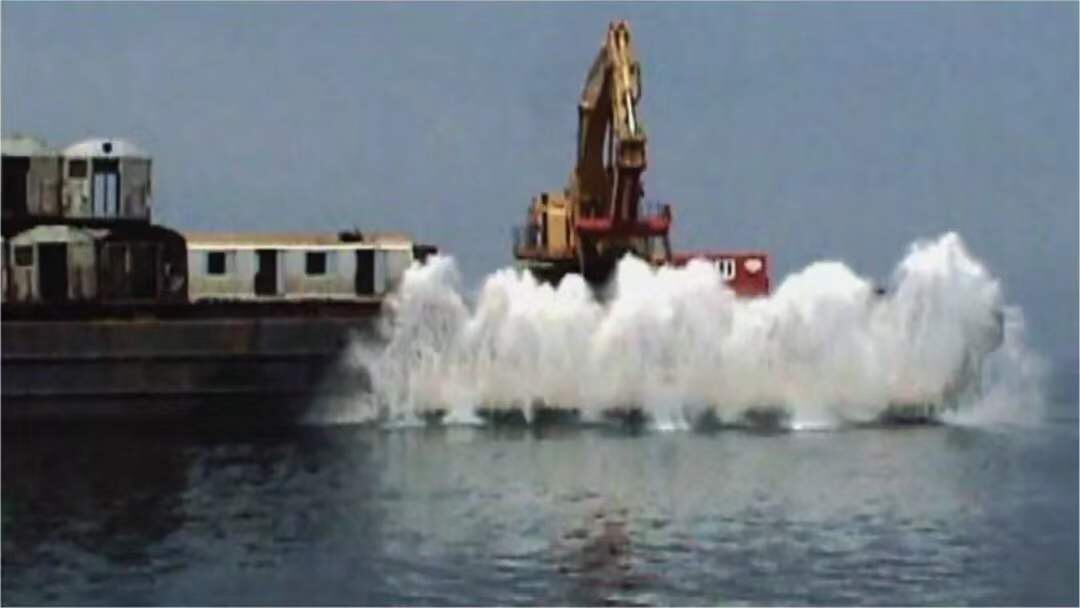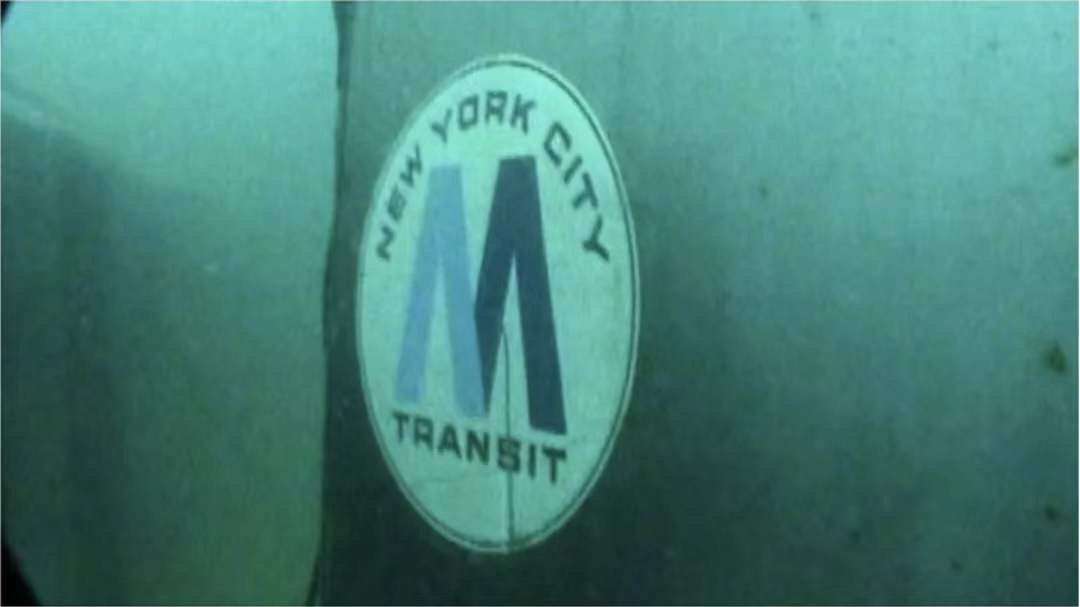 Cyprien Gaillard
Ocean II Ocean, 2019
HD color video with sound, 10:56 min Various dimensions
Photo: SPRÜTH MAGERS
Toward the center of the installation, L'Ange du Foyer (Vierte Fassung) presents a hologram moving ecstatically to the gentle whir of an LED fan. Its dynamic figure is modelled after the fantastical being in Max Ernst's 1937 surrealist painting of a similar name. Later described by Ernst as a premonition of the destruction across Europe during Word War II, the twisting angel can be seen both as a symbol of blind destructive force and as a tormented dancer. The figure, which remains still in the painting, but comes alive in the hologram, is caught in a continuous loop, forced again and again to be reborn. Informed by cyclical thinking, the angel-creature in its repetitive dance can be seen as an analogy to human destructive and self-destructive capacity.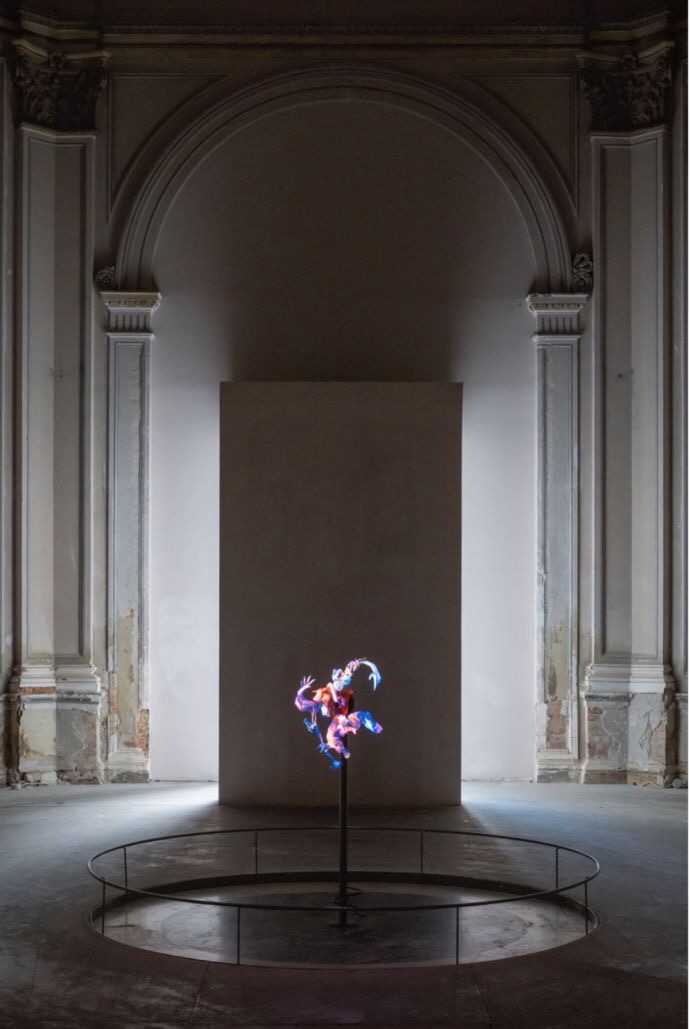 Cyprien Gaillard
L'Ange du foyer (Vierte Fassung)
2019 Holographic LED-Display
galvanized steel base 156 × 75 × 24 cm
Gaillard's series of excavator heads, first shown in 2013, is composed of excavator shovels, removed from their conventional setting, juxtaposed with large gold-colored stone rods. Once part of machinery used as a means for destruction, in order to encourage rejuvenation through building, the now-preserved shovels begin a fossilization process of their own. With the patina they have collected in the course of their mechanical life—patches of rust and faded paint—the machines look like archaeological artefacts retrieved from the depths of the earth. Gaillard's sculptures, three of which are installed in a semi-circle, take us on a journey back and forth between prehistory and the present. This leap in time is further reflected in the rods of yellow banded calcite, quarried from the Uinta Mountains in Utah, USA, and inserted into the shovels' cylindrical bushings. Between the brittle, translucent minerals and the solid pieces of equipment that might have been used to excavate them, a strange equilibrium unfolds: in their proximity and arrangement, what is heavy becomes light, and the minerals take on the appearance of spreading wings. These stones connect conceptually to the fossil-encrusted marble walls visible throughout Gaillard's film, which in turn provides the main light source for the sculptures.
From left to right:
Cyprien Gaillard
Cuban Wren, 2014; Fiji Bar-Winged Thrasher, 2013; Western Turner's Rail, 2013
Excavator head and banded calcite
Mr. Qiao Zhibing, the founder of TANK Shanghai, explained: "As Cyprien Gaillard's first solo show in China, the "Ocean II Ocean" exhibition presents both the artist's iconic creations and his latest works. His creation is concerned about human history, social civilizations and current global issues, like an explorer of modern civilizations. Such external interconnectivity and internal biological relationship in the work can be regarded as an enlightenment to the development of today's society and convey humanistic spirits."
The exhibition opens on November 7, 2019, and will run until January 12, 2020.
TANK Shanghai would like to thank Sprüth Magers and Gladstone Gallery for their generous support.

About Artist
Cyprien Gaillard *1980, Paris, France) studied in Lausanne and lives and works in Berlin and NY. He has been the recipient of a number of awards including Melbourne International Film Festival Award for Best Experimental Short (2016) and the Preis der Nationalgalerie für junge Kunst (2011). Solo exhibitions include Museum Tinguely, Basel (2019), K20 – Kunstsammlung Nordrhein-Westfalen, Düsseldorf (2016), Julia Stoschek Collection, Düsseldorf (2015), MoMA PS1 (2013), Hammer Museum, Los Angeles (2013), Fondazione Nicola Trussardi, Milan (2012), Schinkel Pavillon, Berlin (2012), Centre Georges Pompidou, Paris (2011, 2008), KW Institute for Contemporary Art, Berlin, and Centre Georges Pompidou, Metz (both 2011), Zollamt, Frankfurt am Main, Kunsthalle Basel (both 2010), and Tate Modern, Trubine Hall, London (2009).
Major group shows include the 58th Venice Biennial (2019), Gropius Bau, Berlin, the Cleveland Triennial, Cleveland, USA, (both 2018) the ARoS Triennial, ARoS Art Museum, Aarhus, Denmark,The Red Brick Art Museum, Beijing, China, The Hirshhorn Museum and Sculpture Garden, Washington DC (all 2017), Hayward Gallery, London (2016), 13th Biennale de Lyon, La vie moderne, Lyon (2015), Kunsthalle Düsseldorf (2012), the 54th Biennale di Venezia, Hamburger Bahnhof, Berlin (both 2011), MoMA, New York, Gwangju Biennal, South Korea (both 2010), Generali Foundation, Vienna (2009), and the 5th Berlin Biennale (2008).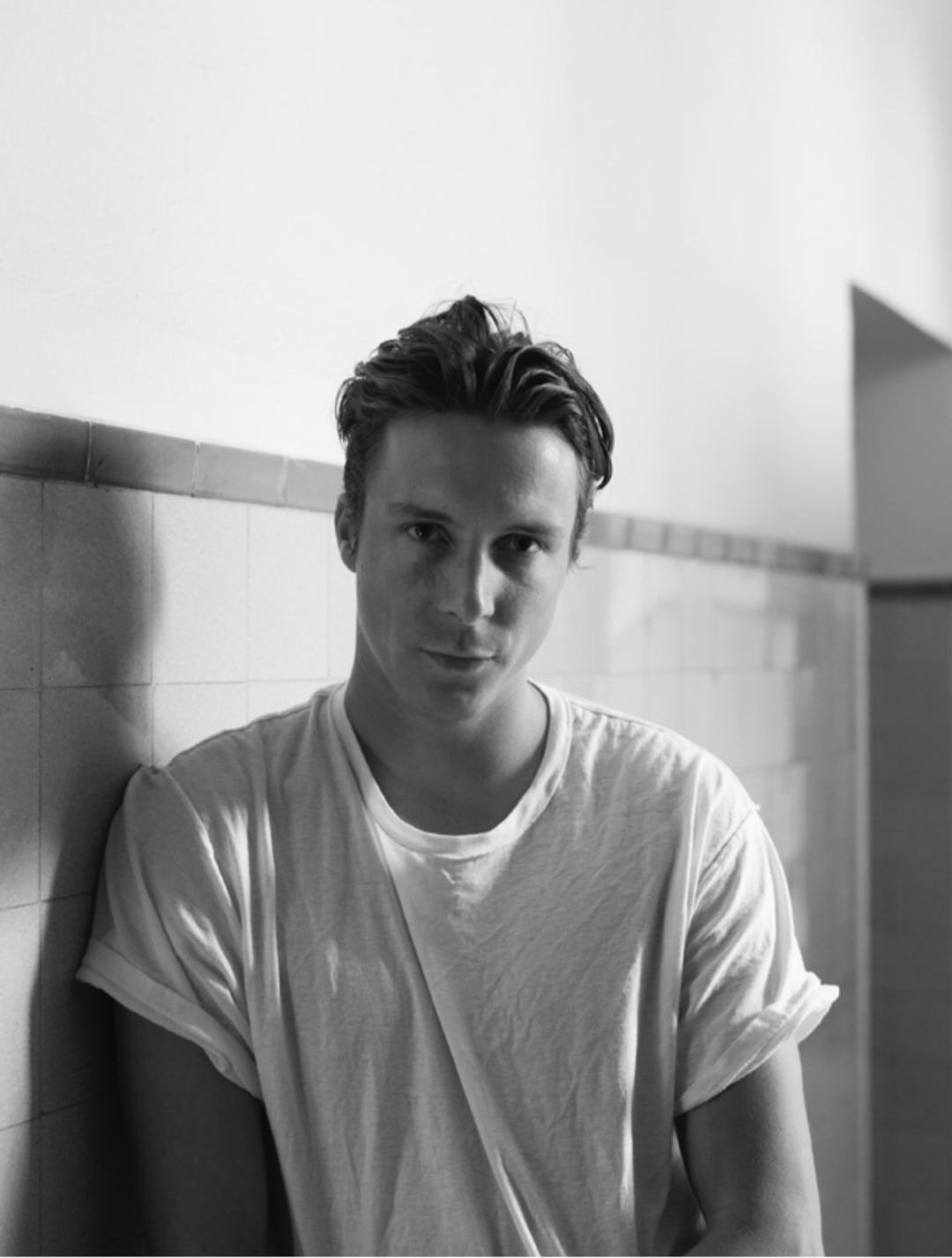 About Sprüth Magers
Since its inception in 1983 Sprüth Magers has expanded from its roots in Cologne (Germany) to become an international gallery dedicated to exhibiting the very best in groundbreaking modern and contemporary art. With galleries located in Berlin Mitte, London's Mayfair and the Miracle Mile in Los Angeles – as well as an office in Cologne and an outpost in Hong Kong – Sprüth Magers retains close ties with the studios and communities of the German and American artists who form the core of its roster.
About Gladstone Gallery
Gladstone Gallery is a leading contemporary art gallery with locations in New York and Brussels. Representing more than fifty artists, as well as major foundations and estates, Gladstone Gallery has played a significant role in launching the careers of several of the most notable artists working today.